Well, I am obviously not at CHA if I am updating my blog, right?! Well, I could be if I had a laptop...but I don't so that takes care of that!! :)

I have only been scrapbooking thru one CHA since I started and I got the excitement...but not like this time! I actually could have went as a design team member for Kiki Art, but it didn't work out this time. I am hoping maybe Chicago in July. How fun would that be and if I wanted to drive it would only be an eight hour one. :)

So, instead I am going to share a few things I have done with you for CHA...this will be going on for a few days, as I have quite a few projects there!!! Which I am very excited about and honored beyond belief!

This first one is my inital K altered with Kiki Art papers from the Magica Collection. This is a bright and fun line that reminds me of a fantasy land or dream!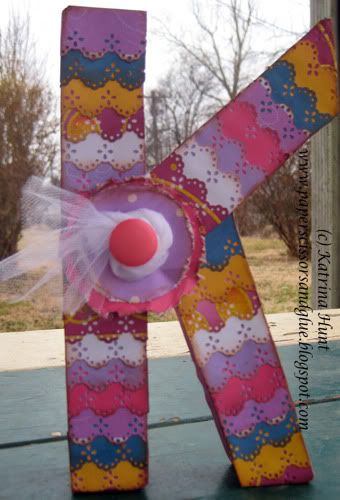 Supplies:
Kiki-Art Magica Collection Papers, Cat's Eye Ink, Bazzill Tulle,
Martha Stewart border punch, Fabric-Tac adhesive, Button is unknown

This next one is a layout of my friend and Higgins, who was very distracted by a squirrel or something else that was running around behind me while I was trying to take the picture!!! We took lots of great pics that day and you will see quite a few of them. It was perfect...a little overcast, so it really made the colors POP! The title "me and you" came to me from the song So Happy Together. I searched for the lyrics and used them for my journaling.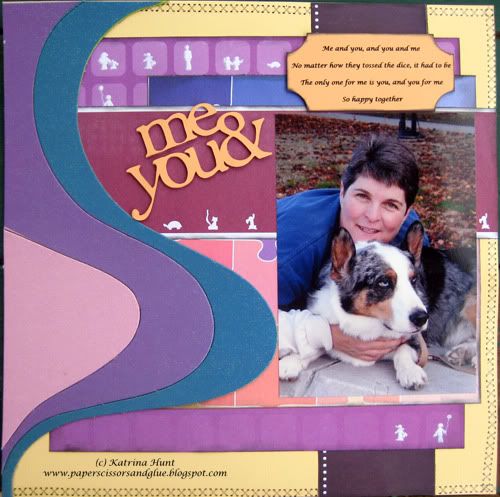 Supplies:
Kiki-Art Familia Collection; Magica Collection Rainbow Chipboard and Stitch FunTape,
Bazzill cardstock, Making Memories Slice
And last but not least a.....wait for it..........CARD! If you follow my blog, you know I state that I need to work on making cards more. Well, believe it or not, I actually have TWO at CHA! And I am happy with botho of them. :) I embossed the cardstock with my trusty Cuttlebug and then used up some of my scraps to make the card. And the butterfly is made with my Slice, O Wire from Zutter, and the Glittered Chipboard Hearts from Kiki Art. I took the Kiki Art FunTape and ran it along the backside of my ribbon to create a ribbon that matched!
Supplies:
Kiki Art paper, FunTape, and Glittered Chipboard Hearts; Bazzill Cardstock; $1 stamp from Michaels, EK Success Border Punch
And last but definitely not least, my buddy Karen, who is on Spellbinders design team, has made it to the finals of the Purple Cows contest! So, go throw a vote her way if you would! Here is her blog where you can see the amazing mini album that she made. Creative Yearnings

Here's the site to vote for her project!
Purple Cows Voting.
Thanks for coming by today....and I will have a Kiki Art Giveway on my blog this week!!!!! And new layout goodies to share!!

Have a Scrappy Kinda Day~~Katrina