It's time for the first ever Sketch Support Blog Hop!!!!
You probably started at the Sketch Support site and found your way here!! If not, hop over to there and start from the beginning!!!
(and I will have the full list and links at the bottom of this post!)
So, we have some questions to answer
When it comes to paper crafting I am.....
Messy, unorganized and fly by the seat of my pants!
Where do I craft?
In the living room...in front of the front door!! Really....I usually put my table up every night....but lately, I have been a bad girl!
When I am creating these are the things I have to have around me...
Ott lite....my number one thing....lighting in the house isn't great. My first one died and I went out and bought another one the very next day! And border punches....I am addicted!
When I am not creating you can find me....
Either on the computer, taking a nap, or
watching Glee!
When it comes to sketches....
I usually change them up a a bit...but it gives me a jumping off point!
On to the sketch!!!! Here's what we were given to work with.......
(you can download the sketch over at Sketch Support)
And here is what I came up with......love these puppy pics of Jetson...this was his first or second day home.......
Supplies:
Jillibean Soup Old World Cabbage Stew Collection; Jillibean Soup Corrugated Alphas in Red and White; Maya Road tag; Unity Stamp Happily Ever After KOTM; Ippity Kit Love in Return; The Twinery Baker's Twine in Cappuccino; Martha Stewart border punches;
Studio Calico Mists in Calico Cream and Applejack; Memento Ink's; Scotch ATG
If you look closely...I just basically used the second page of the sketch...but changed it up slightly.
Ok, giveaway time!!!! I have the following to give away to one lucky person that leaves a comment on this post!!! There is only ONE condition, you MUST leave me a way to contact you. If there isn't a way.....I can't ship your prize to you. So.....what's the giveaway??? The giveaway ends at 9 PM Central Time on Sunday evening.
A copy of Sketches for Scrapbooking Volume 7!!!!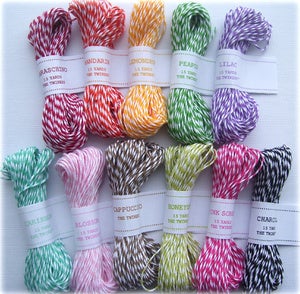 a sampling of twine from my Twinery stash....it will not be like this picture...this is the Sampler pack that you can get from The Twinery. I was just showing the yummy colors!!!!!
Ok, I am going to give you the order of the hop...make sure you comment on everyone's blog....there is a prize that you will want to win!!!!
Sketch Support Blog
Jennifer
Shari
Amy
Melissa
Jill
Christy
Tammy
Suzanna
Christina
Noey
HERE..Katrina..HERE